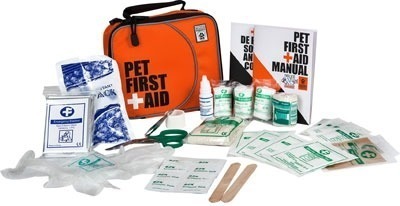 Compact Pet First Aid Kit - $38.00 CAD
The new compact "Canine Friendly" Pet First Aid kit was co-designed by Walks 'N' Wags and manufactured by RC Pet Products.
This kit has a belt loop so it can be worn easily while out on walks. Kit organizes supplies and instructions into clear vinyl pockets for easy access. Durable bright orange fabric is highly visible. Reflective piping on kits makes it easy to find in low light situations. Zipper extenders allow you to open the kit while wearing gloves. Walks 'N' Wags Pet First Aid Manual offers easy to follow instructions.
CONTENTS:
Gauze Rolls x 3
Square Gauze Pads x 4
Rectangle Gauze Pads x 4
Elastic Bandage x 1
Patch Adhesive x 2
Triangle Bandage x 1
Exam Gloves x 1
First Aid tape x 1
Tweezers x 1
Scissors x 1
Cold Pack x 1
Saline Solution x 1
Antiseptic Wipes x 8
Wooden Tongue Depressor x 2
Emergency Blanket x 1
Walks 'N' Wags First Aid pocket Manual x 1
Shipping weight: 1.5LB