Our Head Office receives emails and phone calls daily from people inquiring about teaching Walks 'N' Wags Pet First Aid.
We understand that people who inquire need to ensure they will be working with a company that is the right match. Of course we think we're great, but let's be honest, we are a little biased! To provide perspective, we decided to ask current Instructors for their feedback on what it's like to be a part of Walks 'N' Wags. Here's the outcome of our discussions:
SUPPORT
Our Instructors are not numbered. We know each of them by name so when they contact us we know who they are. Instructors also are interconnected via a private online group where they network and support one another. This means no matter how far they are geographically apart, they are still a community.
The success of our Instructors is paramount. We work very hard to help them in setting up their new business and in marketing themselves to their community. We promote classes via many online channels and print media, as well as in person.  Rest assured, we work together as a family and our Instructors are not alone.
Here's some of the feedback from Instructors about the support they receive:
"I like the friendships I've made with people I haven't even met. We're a very tight-knit community and everyone is very quick to support each other, whether it be for materials, information or simply moral support in times of a personal crisis. I'm all alone out here in Nanaimo now, but I know I can fall back on my instructor friends in Calgary and elsewhere." ~ Valerie Black, Pawsitive Touch Canine Massage, Nanaimo BC
"I'm the only instructor in this neck of the woods and I really appreciate that I can reach out any time and get my questions answered or the assistance I need even though other instructors are many km away and in different time zones." ~ Jennifer Blackman, Wag Canine Recreation Centre, Amherst NS
Below, Instructors meet for a casual dinner after the November 2014 Instructor Course in Red Deer AB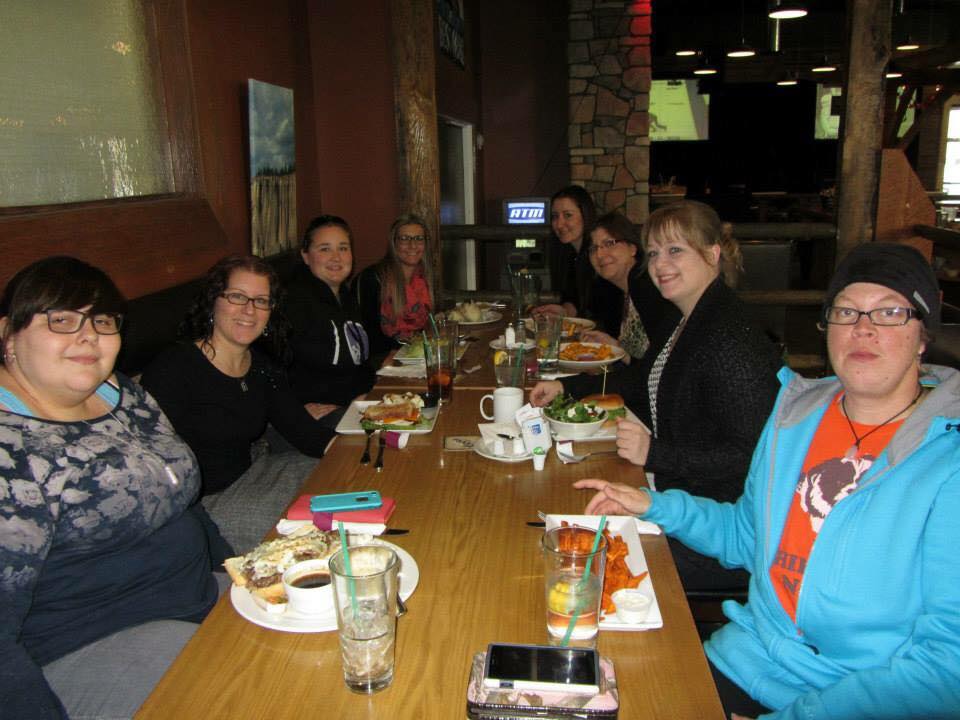 EMPOWERMENT
Each student that leaves our class is armed with the skills and confidence to step in during an animal emergency. As an Instructor, this is a very rewarding feeling. We often hear stories many months later from students who have had to use their skills. While we never wish illness or injury on a pet, we are grateful to hear that our students were able to ease an animal's suffering.
"I love being a WNW instructor because we are providing every day pet parents the ability to recognize illness before it's too late. And we provide them skills to potentially help animals experiencing illness or trauma." ~ Stephanie Pignoli, Furball's Choice Belleville ON (pictured below)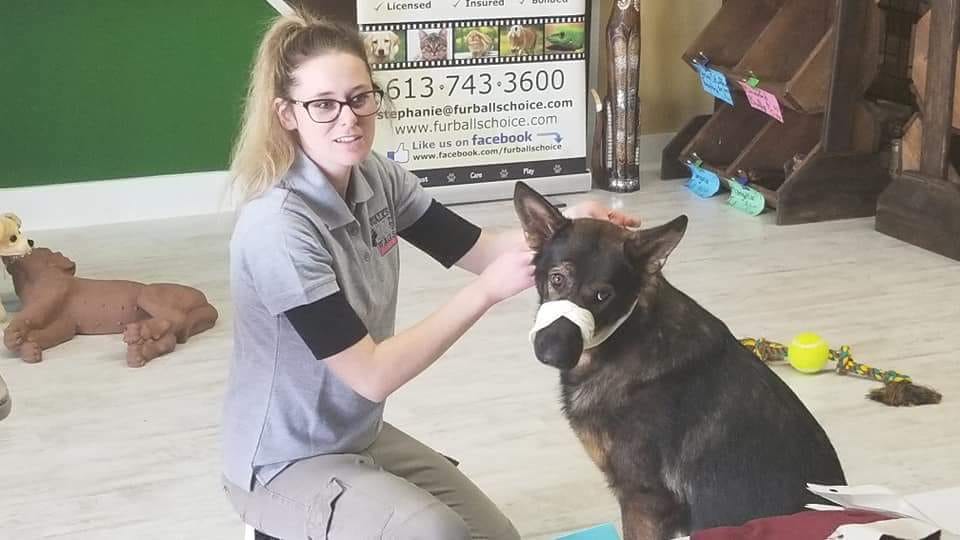 I like helping to make people more aware of different scenarios and possibilities and teaching them how to deal with those. So many people would come into the ER panicked and feeling helpless with no idea what they could have done to help in an emergency situation. Teaching helps empower people to take charge and help. ~ Megan Lysek, Where The Wild Things Romp, Denver CO
"I like that I actually could be indirectly saving an animal's life! Also love meeting new people and learning knew things." ~ Lindsay Buccella, Scruffy Muttz Dog Grooming and Pet First Aid, Stouffville ON
"The skills are simple and everyone can learn them. The information combined with the skills empowers people to act in sometimes very scary situations. I feel good if my participants go away armed with their books and empowered." ~ Katie Stoyles, Pet First Aid Training with Katie, Aurora, ON
"I love being able to share my passion of preventative health for pets and empowering pet owners and first responders is very fulfilling for me. Teaching the necessary steps and applying these skills on live pets in class is an amazing way to practice these skills when faced with a real life situation. Sharing these tools and resources is invaluable with access to the comprehensive manual as a quick reference allows students to feel prepared in the event of a pet emergency." ~ Sarah Macknak, Paw Responder Pet First Aid, Calgary AB
Below, Sarah demonstrates to a group of her students.
"I like being a part of group of instructors that may come from different backgrounds but all share the passion for the welfare of animals. We all strive to educate every student the importance of Pet First Aid. 
Being able to instruct topics that could (and have) made the difference in a life & death situation for dogs/cats continues to prove how important our program is." ~ Krista DeCarle, Royal Pooch Pet Services Calgary AB
GIVING BACK
One of the things nearest and dearest to our hearts is giving back to those who need us. Our Instructors participate in our annual Holiday Charity Drive, attend and raise funds for charity fundraisers and give their time at shelters, spay/neuter clinics and other pet-related endeavors.
In addition, many Instructors volunteer educating youth about Pet First Aid via our children's workshops and at community events. We do this because we truly love animals and want to support animals in need and encourage compassion towards them.
Here's some feedback about this topic:
"I like connecting with the different organizations in my community and helping out where and when I can. Coming from the veterinary profession one of my favorite parts of the course is the emphasis on prevention!" ~ Pam Pennington, Red Deer Pet First Aid, Red Deer AB
"There are lots of reasons why I'm grateful and enjoy being a WNW instructor! One aspect I really like is the opportunity and ability to volunteer our time with Kids Camps.  This is such great opportunity to educate youth in our communities on the importance of staying safe (going to get help) and discussing ways they can help our furry friends. It's also a great way to inspire and peak their interest in learning more about animal welfare. ~ Nikki Nordick, Airdrie Puppy Pals, Airdrie AB
Pictured below, Nikki Nordick offering a children's workshop
"As Operations Director of Walks 'N' Wags, working hands-on helping animals is incredibly important to me. I enjoy volunteering at spay/neuter clinics, supporting local and international rescues, and offering Pet First Aid workshops to the community to get them excited about what we do. Giving back is one of the core values of our organization and I'm proud to work alongside like-minded Instructors". ~ Lisa Wagner, Operations Director
Pictured below, Lisa Wagner and Chief Dog Officer Tux offer a community demonstration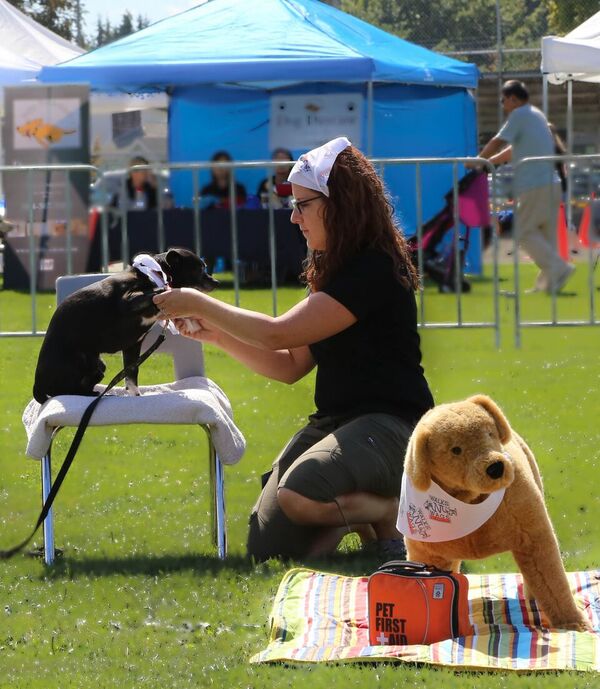 COMMUNITY
Instructors told us that they feel a part of something bigger than themselves. They love meeting other community members who share their passion for keeping pets safe. And knowing that the training those people have received may just save a life!
We also keep in close touch with our students via our social media pages and have an open door policy for them to connect with us. We also welcome student feedback via Facebook and Yelp reviews. Simply put, we love staying connected!
Here's a few comments they shared with us:
"I love spreading the idea of the importance of pet first aid within the pet care professional community, emergency services and general public. We get to meet fascinating, dedicated people and bring like-minded pet owners and professionals together. I firmly believe that teaching the Walks 'N' Wags Pet First Aid curriculum benefits not just the animals but the whole community." ~ Larry Fosnick Davis, Pet First Aid Seattle, Seattle WA
"To be able to contribute to animal welfare in a non-invasive way has been a life-long desire. Meeting the knowledgeable participants and their animals has been such a positive experience overall! The support from the other instructors has been invaluable too! Thank you, Walks 'N' Wags!" ~ Heather Rankin, First Aid Fur Pets Preventative Care Centre Sechelt, BC
"Honestly one of my favorite parts of teaching WNW is being connected with so many other people who are so passionate and caring about their pets (whether it be their own or the ones in their professional life). After working a lot in rescue, it's refreshing and rejuvenating meeting people who are so dedicated to the well-being of their pets. We all get to share stories and leave as friends!" ~ Mallory Richards, Good Hound Training and Daycare, Delta BC
Pictured below, Instructor Samantha Havill of Furry Friends First Aid, Montreal QC and a student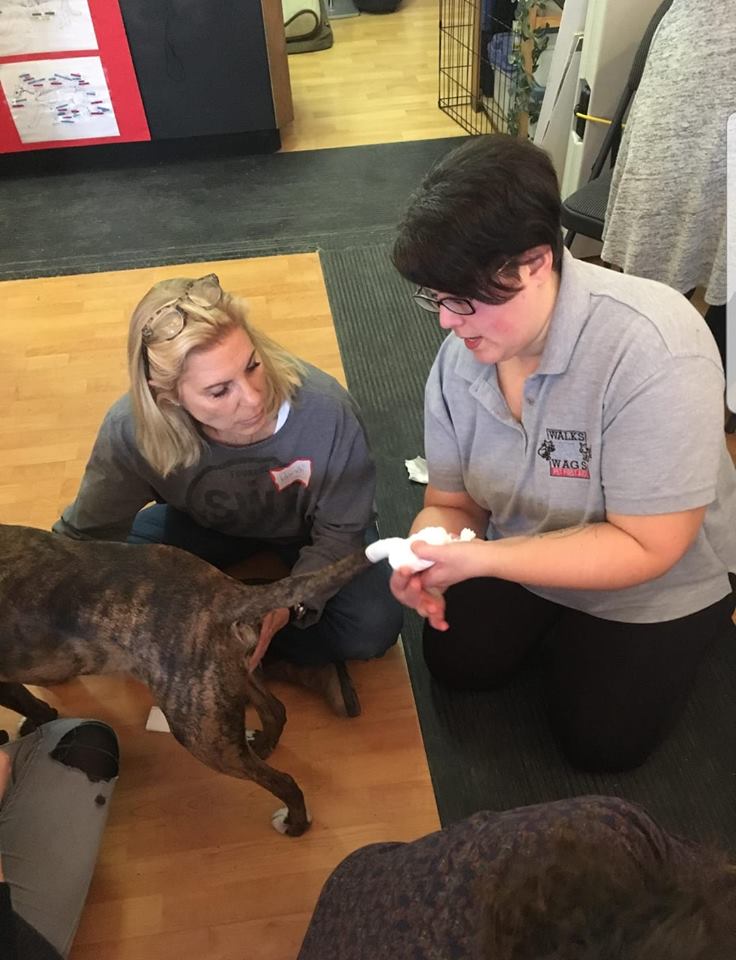 There are so many reasons to join our Instructor family. Susan Ryan of Brant CPR Plus in Brantford ON may sum it up best: "Being a Walks 'N' Wags Instructor is a wonderful, family atmosphere where we are kindred spirits with a common goal to help make pets lives better. The support , advice and continual learning is always a great experience."
Learn more about joining the Walks 'N' Wags Pet First Aid Instructor family HERE.