Online Pet First Aid
Do you live outside of a Walks 'N' Wags Pet First Aid in-class course location?
Or do you prefer learning online at home? We have an amazing and comprehensive Online Pet First Aid Certification Program!
We have been offering Distance Learning successfully for many years and it is to our knowledge the longest-standing program worldwide. Successful participants earn the same Pet First Aid Certification as those attending an in-class programs. Recently, we are excited to have moved the program to be offered entirely online.
Walks 'N' Wags Online Learning Pet First Aid course material include:
Easy-to-follow, online course material that include both hands on practice and multiple choice knowledge quizzes
Free email and phone support to a live tutor in case you have any questions
Course Exam
Certification upon successful completion (same Certification as the in-class program)
Hardcopy of Walks 'N' Wags Pet First Aid manual (optional)
Hardcopy of our compact "Walks 'N' Wags Emergency Guide to Pet First Aid" for your first aid kit (optional)
Walks 'N' Wags Online Pet First Aid program caters to all audiences, including pet professionals and pet owners. Online Pet First Aid Learning offers you a unique combination of hands-on skills and written work. It is fun and informative, in fact many of our successful Instructors started out by completing this program.
Walks 'N' Wags Online Pet First Aid Program is now available. Custom tailor your order to simply earn your Certification, or to optionally order pet first aid kits and course manuals.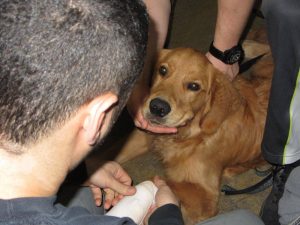 If you have any questions please email us at lisaw@walksnwags.com with your contact information.
You asked for it and we listened. Walks 'N' Wags now offers a Pet first Aid Distance Learning Pet First Aid Instructor Program!
NEW: Distance Learning Pet First Aid Instructor Program